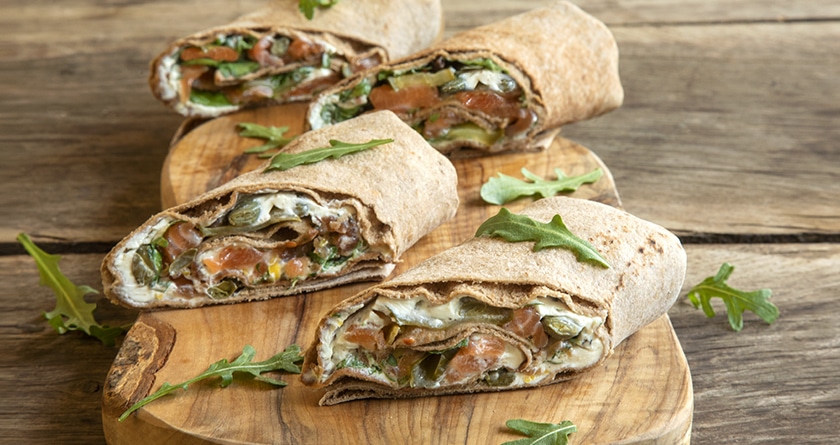 Wrap with homemade salmon
In a small saucepan, add the chili flakes, ground pepper, coriander, salt, vinegar, sugar, and transfer to medium-high heat. Bring to a boil.
Cut the cucumbers into very thin slices and add them to the pot. As soon as it comes to a boil, remove from the heat.
Allow 5-10 minutes for them to marinate. The time depends on how thickly you have cut your cucumber.
In a mixer, add the salt, sugar, anise, dill stems, dill stalks and the zest of 1/2 lemon and beat well. Set aside.
Remove the skin from the salmon and cut it in half. Cut into very thin slices and set aside.
Spread the salmon slices on a cutting board and spread the marinade on both sides. Leave to marinate for 5-10 minutes. The time depends on how thinly you have cut the slices.
Rinse with plenty of water and wipe with paper towels.
In a bowl, add the cream cheese, finely chopped dill, lemon juice, salt, pepper and mix.
Spread the Lebanese Pita Bread on your work surface. Divide the sauce, 100 g of the pickled cucumber, salmon, olive oil, pepper, capers, rocket, wrap and serve.